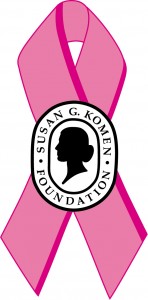 Brothers and Sisters,
We recently accepted the challenge to raise funds to support the Tulsa Affiliate of Susan G. Komen for the Cure in its efforts toEND BREAST CANCER FOREVER.
Please help support us in this important project by becoming a member of our team! we are looking for our friends and family to join us in supporting this very worthwhile cause. Becoming a team member is easy! All you need to do is click on my team page link below and register for the Race for the Cure© and "Join a Team".
Remember, one person can make a difference in the fight against breast cancer. Susan G. Komen for the Cure was founded by one sister making a promise to another sister. You can be a part of this worthwhile effort! Our promise of a world without breast cancer does not just rest in the hands of Susan G. Komen for the Cure.  It is up to you, our community of survivors and co-survivors, to stand united with us until the promise is fulfilled and the cures are found.
Register Online NOW! Deadline Sept. 08
Go to  http://komentulsa.org
Click on Register Today on the right
Click on Company List Page on the right
Select American Airlines from the list
On the new page you can join an existing team or form
To Join or donate online, click on the link http://tulsa.info-komen.org/site/TR/RacefortheCure/TUL_TulsaAffiliate?fr_id=2204&pg=team&fr_id=2204&team_id=174924
Contact your local AA/Komen Team Representative or call Sattar Hussein at (918)292-2080 or cell (918) 346-8666 email sattar.hussein@aa.com
We look forward to seeing you on race day!