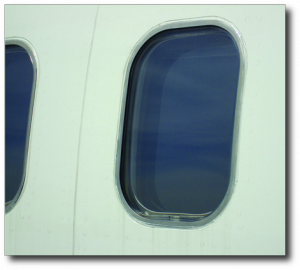 During the negotiations of the collective bargaining agreement the company insisted on their need for increased outsourcing. The TWU zealously fought to retain work and obtained industry leading language that limits the company's outsourcing to 35% of its total maintenance expense. Several areas were identified by the company for outsourcing, within the percentage cap, and listed in Article 1 Attachment 1.2.
One area selected by the Company for outsourcing was our Window Shop located in the Composite Repair Center in Tulsa. After hearing of the planned closure an unprecedented effort was undertaken by the mechanics to reverse that decision. Unwilling to accept defeat, Vance Foster and Dale Williams from the shop, with the help of TWU International RO Chairman Gary Kelley, convinced the company to allow the shop to bid the window work against competitive bids received by Purchasing from outside suppliers.
After an extensive reevaluation of every aspect of the window shops repair process and looking at all opportunities to reduce unnecessary labor cost, the shop, with the help of Tim Connor of the former Business Development Group (BDG), compiled a comprehensive bid that was submitted for comparison.
After the Financial review, evaluating the Window Shop bid against the outside supplier bid, the work was awarded to the Window Shop. This is but one example of when given the chance our members can step up to the plate and hit one out of the park.
Congratulations to the entire window shop organization and everyone involved in making this happen.