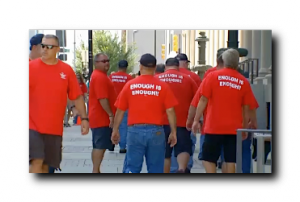 Tulsa – Members of the Transport Workers Union (TWU) in Tulsa, Oklahoma – home of American Airlines' largest maintenance and repair base – delivered petitions with more than 8,000 signatures from all over the United States to the offices of the U.S. Department of Justice (DoJ) in Tulsa today.
In a similar manner, airline workers and supporters from Chicago, Dallas, Los Angeles, Miami and other cities are calling for the government to drop its irrational lawsuit against the proposed merger of American Airlines and US Airways. The merger will protect good-paying U.S. jobs and give consumers the only real chance for competition with the Delta-United duopoly, which currently dominates the U.S. airline industry.
"The DoJ lawsuit is completely inconsistent with its approval of the mergers of United/Continental and Delta/Northwest," said Tom Lee, president of TWU Local 568 in Miami. "Now, by trying to block the American Airlines/US Airways merger, the DOJ is prohibiting a more level field of competition within the industry."
"We're counting on this merger to restore a level playing field in the industry and to help keep our jobs secure," said Sean Doyle, president of TWU Local 512 in Chicago. "It will enable us to compete with United and Delta and provide consumers with more choice. If the merger is blocked, we'll be at a competitive disadvantage, our jobs will be at risk, and consumers will lose out."
"Workers at American Airlines and US Airways have struggled for more than a decade with reductions in wages, healthcare and pensions," said Donny Tyndall, president of TWU Local 502 in Los Angeles. "We support this merger 100 percent, because it will ensure we have an economic future. We can't understand why our own government is going to court to put good- paying U.S. jobs at risk."
"If the DOJ blocks this merger, American Airlines and US Airways could again be faced with deep financial losses," said Darrin Pierce, president of TWU Local 513 in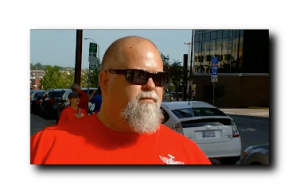 Dallas/Fort Worth. "We're doing everything to we can to make this industry more competitive, by offering quality service and real choices for consumers. Our efforts shouldn't be undermined by government intervention."
AMR, the parent company of American Airlines, is ready to emerge from a difficult two-year bankruptcy process with a plan to merge with U.S. Airways. The proposed merger would create – for the first time in years – head-to-head competition between Delta and United and an American Airlines more able to compete with foreign carriers.
In coming days, TWU members plan to join with members of other unions, consumer advocates, local elected officials and others to reach out to the White House and the Department of Justice, encouraging support for the proposed merger.
TWU members have requested a meeting with U.S. Attorney General Eric Holder. "We'd like to let him know, directly, how this merger will help workers and consumers," said Dale Danker, president of TWU Local 514 in Tulsa.
This coming Friday, August 30, U.S. District Judge Colleen Kollar-Kotelly will set a trial date for the Department of Justice's lawsuit against the proposed merger. TWU members have joined American Airlines and US Airways in seeking a speedy trial – if DoJ proceeds with a legal action that appears to violate the precedents set during previous airline mergers.
"When you've got a lawsuit this wrong-headed, the best thing is get it over with as soon as possible," said Danker. "Airline workers, passengers, shareholders – everybody's going to be better off once we put this behind us and move ahead with a merger that makes sense."