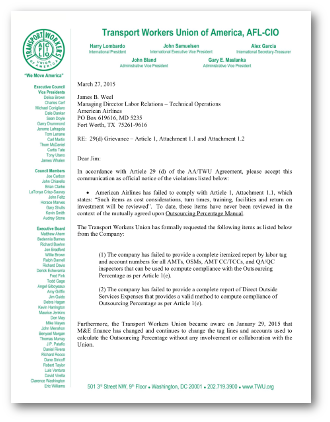 Dear Jim:
In accordance with Article 29 (d) of the AA/TWU Agreement, please accept this communication as official notice of the violations listed below:
American Airlines has failed to comply with Article 1, Attachment 1.1, which states: "Such items as cost considerations, turn times, training, facilities and return on investment will be reviewed". To date, these items have never been reviewed in the context of the mutually agreed upon Outsourcing Percentage Manual.
The Transport Workers Union has formally requested the following items as listed below from the Company:
The company has failed to provide a complete itemized report by labor tag and account numbers for all AMTs, OSMs, AMT CC/TCCs, and QA/QC inspectors that can be used to compute compliance with the Outsourcing Percentage as per Article 1(e).
The company has failed to provide a complete report of Direct Outside Services Expenses that provides a valid method to compute compliance of Outsourcing Percentage as per Article 1(e).
Furthermore, the Transport Workers Union became aware on January 29, 2015 that M&E finance has changed and continues to change the tag lines and accounts used to calculate the Outsourcing Percentage without any involvement or collaboration with the Union.
Due to the importance of this issue we are requesting a review of this matter immediately. Hopefully American Airlines and the TWU can resolve this matter without arbitration. Failure to reach a satisfactory solution will result in the TWU taking this dispute to an expedited 29 (d) arbitration.
Please feel free to contact me regarding further questions.
Sincerely,
Sean Doyle
International Vice President