October Meeting – 10/11
Executive Board at 6:00 p.m.
General Meeting at 6:30 p.m.
Our regular monthly meeting will be held this Thursday, October 11th at the Sheet Metal Workers Union Hall (1863 N 105th E Ave).
A reminder to all members, the deadline to register to vote before this November's election is October 12th. If you have moved and need to update your address you can do so on the Election Board website here. Or you can download a voter registration form here.
You can also request an Absentee Ballot by clicking here.In Solidarity,
Andy Frye
President
2018 Labor to Labor
We will be calling and knocking doors of union households in House Districts 12, 16, 71, and 75 encouraging members and their families to vote for OK State AFL-CIO endorsed candidates. Watch for information on specific Days of Action in each of these districts.You can also volunteer on your own schedule by contacting Tiffany Phillips at 918.832.8128 or by responding to this email. You can also reach out to Trentice Hamm (405.488.5786) who is helping us through this election season thanks to the IBEW.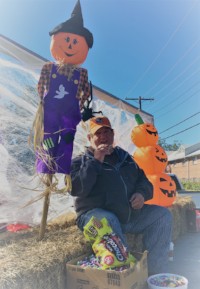 2018 Boo HaHa Parade
October 27th @ 11am
Kicks off from Church of St. Mary (49th & Peoria).Join us in the parking lot of Church of St. Mary by 10:45am. Costumes encouraged. Bring your kids and well behaved dogs.

We'll have plenty of candy to hand out to thousands of kids.