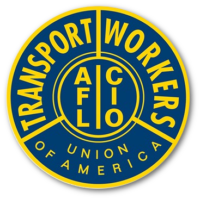 WASHINGTON, DC—John Samuelsen, International President of the Transport Workers Union of America, issues this statement in response to the Global Aircraft Maintenance Safety Improvement Act, introduced today in the Senate:
"For far too long, America's air carriers have been incentivized by the Federal Aviation Administration to offshore aircraft maintenance, repair, and overhaul work to foreign facilities that are not required to meet the same safety and security standards as U.S. facilities. This double standard may jeopardize the safety of the flying public and flight crews, since it forces American workers into a lopsided market to compete against cutthroat foreign facilities and their workers who are not required to meet the same standards as a worker in the U.S.
"The TWU has long been the leader in the fight to halt this despicable practice and has successfully negotiated the rollback of outsourcing and offshoring of aircraft maintenance work, returning jobs to U.S. soil. Today we are in full support of Senators Tammy Baldwin and Shelley Moore Capito's introduction of bipartisan legislation to address key regulatory gaps that have allowed this two-tiered system to thrive. By addressing gaps in drug and alcohol testing, background checks, and qualification standards, we can end this scourge once and for all. We look forward to this bill moving through Congress and becoming law."
---
| | |
| --- | --- |
| FOR IMMEDIATE RELEASE: | CONTACT: |
| April 25, 2023 | 202-228-1462 |
Capito, Baldwin Introduce Global Aircraft Maintenance Safety Improvement Act
WASHINGTON, D.C. – U.S. Senators Shelley Moore Capito (R-W.Va.) and Tammy Baldwin (D-Wis.) today introduced the Global Aircraft Maintenance Safety Improvement Act, legislation that seeks to level the playing field for foreign repair stations.
There are nearly 1,000 Federal Aviation Administration (FAA) certified maintenance and repair stations operating outside the United States. These stations service American aircraft, but many operate at a far lower safety standard than their American-based counterparts, incentivizing businesses to have this work done in less regulated countries. The Global Aircraft Maintenance Safety Improvement Act would ensure that aircraft maintenance workers around the world are as qualified as their American technicians. Specifically, that foreign technicians are required to undergo background checks and drug as well as alcohol testing. The bill also mandates that foreign stations be subject to surprise inspections and also mandates that better maintenance records be kept by air carriers.
"Currently, foreign repair stations are not required to have surprise inspections, and the workers are not required to undergo background checks or drug and alcohol testing. The bipartisan Global Aircraft Maintenance Safety Improvement Act aims to fix this issue by creating a level playing field for safety. This is one of my top priorities as we move through the FAA reauthorization process, and I'm proud to join my colleagues in introducing this smart, commonsense policy," Senator Capito said.
"When American planes need maintenance, we should be encouraging trusted American workers and American companies to do the work, not ship the jobs overseas to businesses that might be skirting critical safety standards," Senator Baldwin said. "This common-sense legislation will close loopholes that incentivize airlines to ship their maintenance to other countries with potentially lower safety standards, giving passengers peace of mind that their aircraft is safe for flight."
"Certified aircraft mechanics in West Virginia and the rest of the America work hard, follow the rules, and keep our aircraft safe. If we fail to live up to minimum standards, the FAA can take our license and our career away. But the FAA doesn't hold any of the facilities it licenses outside of the U.S. to that same standard. West Virginians are losing jobs because of this and more aircrafts are getting repaired on lower safety standards every day. Senator Capito is leading the fight to ensure one level of safety in our skies and to return good aircraft mechanic jobs to the U.S.A.," Frank Fowler II, A West Virginia FAA-certified Aircraft Maintenance Technician, said.
Near identical companion legislation passed the U.S. House of Representatives in September 2022 with 374 votes. Additionally, U.S. Representatives Marc Molinaro (R-N.Y.-19), Julia Brownley (D-Calif.-26), Nicole Malliotakis (R-N.Y.-11), and John Garamendi (D-Calif.-08) introduced a House bill on March 22, 2023 identical to the one passed in September 2022.
West Virginia is home to 10 repair facilities that support over 1,000 jobs including 518 certified mechanics.
Full text of the legislation is available here.
04-25-2023 Global Aircraft Maintenance Safety Improvement Act_BILLTEXT in PDF