MEMORANDUM
July 11, 2019
To All TWU Local Presidents, Vice Presidents, Secretary Treasurers, Board Members and Local Leaders at American Airlines:
The Transport Workers Union of America expresses in the strongest terms that every TWU local union and labor leader at American Airlines must comply with the Federal Court order issued on June 14.
All parties and their members, agents, and employees, including all local unions that represent employees at American Airlines, must comply with the Federal Court Order.
The temporary restraining order and the TWU – IAM memo are attached. These documents must be posted on local union bulletin boards, websites, and social media accounts. The Order and Association memo are posted on www.twu.org.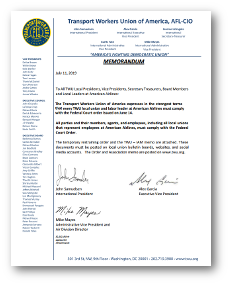 On June 14, 2019, the United States District Court for the Northern District of Texas issued a Temporary Restraining Order applicable to the Transport Workers Union Of America, AFL-CIO, the International Association of Machinists and Aerospace Workers, AFL-CIO, and the Airlines Mechanic and Related Employee Association, TWU/IAM, and to all employees represented by the Association, the IAM or the TWU at American Airlines. A copy of that Order is attached.
As called for in that Order, this is to advise all Association, IAM and TWU represented employees of American Airlines to resume normal working schedules and practices. No employee should engage in any concerted refusal to perform normal operations.
This Federal Court Order requires that the unions named above, and their members, agents, and employees must not engage in, encourage, or participate in any form of interference with American Airlines airline operations.
In addition, union members must not
refuse to accept overtime or field trip requests as they would in the normal course;
fail to complete maintenance repairs as they would in the normal course;
slow down in the performance of their job duties; or
take any other action intended to cause aircraft to be out of service (including specifically aircraft out of service at 7:00 a.m.) or otherwise cause flight delays or cancellations or interfere with American's operations.
In addition, no one shall threaten or intimidate any employee for accepting overtime or field trips or
otherwise performing their job duties as they would in the normal course.
Temporary Restraining Order 6-14-2019 in PDF
Memorandum 2 – AA Court Order 06-16-19 in PDF
TRO – Modifications 7-10-2019 in PDF