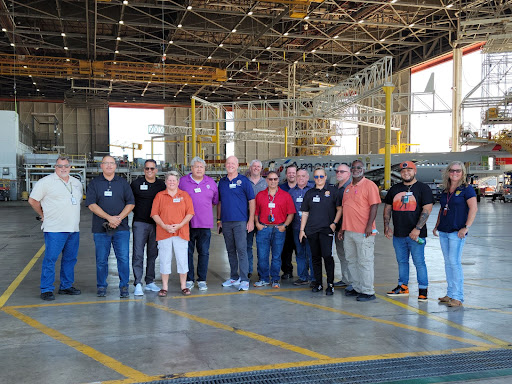 TWU Local 514 hosted 2022 TWU Quarterly June Benefits Conference on Tuesday,
Jun 14, 2022

Benefit Coordinators from around the system arrive on Monday,

Jun 13, 2022

The Locals present were from 514,567,548,591,513,502,529,501,507and 510 . Recording Secretary Terry Buck , Executive Board Officers

Marla Johnson

and

Scott Chisum

escorted members around the TUL Base, all members of the committee were impressed with the Facility and work that is performed by the members of Local 514  . On Tuesday

Jun 14, 2022

was a full day of presentations by AA Benefits Workers Compensation , Absence Return Center , Retirement/Pension, Wellness and 401k Departments , Retirement Counselor Mark Loeber , Union Benefits Planners and National Group Protection . 

Comments
Marla & Terry,

I wanted to thank you guys for the hospitality during the recent benefits conference in Tulsa.  Chauffeuring people around for 20 hours a day for 2-3 days was an unexpected surprise.  Ensuring everyone got to where they needed to be on time was a huge help.  I just wanted to express my gratitude for all the help you guys provided.  Thanks again.      

—

Mike Whelan

Vice President
Transport Workers Union Local 529
Terry,

Thank you for going well above what was expected, the information was great as well as the venue. Next time I will push for all 591 to attend.

Thank you.

Anthony Lepore Local 591.