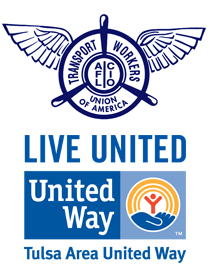 Click the Donate link to Give back to our community with the Tulsa Area United Way!
DONATE
Brothers and Sisters,
For more than 50 years, TWU Local 514 and the Tulsa Area United Way have been on a joint mission to provide a helping hand to our friends, family, and neighbors in our community. In some cases these were the quiet voices like
A New Leaf, Creek County Literacy, and Youth Services of Tulsa.
Then you have the familiar ones such as the
American Red Cross, 
Boys and Girl scouts,
and
Life Senior Services.
These and many others benefited greatly from the generosity of this local membership.
As of January 31, 2018 the streamline process to provide that financial support was terminated without little warning to all participants. This action dealt a deep financial blow to services that are needed and provided in Tulsa and the six surrounding counties.
Since then this local and many locals across the system have been working with the United Way to reestablish a means to help our local community. Your Tulsa Area United Way has provided a link for us to continue to give and reconnect your generosity with the community need.
Fraternally,
Tracy Hardin
Community Service Committee