Insurance
FMLA Documents:
---
Hartford
Short Term Disability (STD) Effective January 1, 2018.
Long Term Disability (LTD)Effective January 1, 2017.
---
More Insurance and Related:
The Lincoln National Life Insurance Company
Survivor Information:
(LTD No Longer in USE, Saved for Historical Value)
Short Term Disability (STD)
Grievance
These are the Grievance forms to be used with our 3-26-2020 agreement.
Implementation date : November 1, 2020
Verbal Step

Any employee or group of employees who believe that they have been unjustly dealt with, or that any provision of this Agreement has not been properly applied or interpreted, may present the complaint or grievance to a representative of the Union, who in turn will discuss the matter with the employee's immediate supervisor, within five (5) days from the time when the employee first has knowledge or should reasonably have had knowledge of the alleged contractual violation that leads to the grievance. The employee's Supervisor will give a verbal decision to the Union Representative within three (3) days of the discussion. Verbal Step decisions are non-precedential.

Step 1
---
Motions
Seniority
Retirement
Transfer
Transfer Eligibility Waiver Form Procedures
Employee Responsibility:
Complete all information beside block 1.
Forward form to your Local President.
Local President's Responsibility:
1. Verify that the Employee has completed his portion of the form.
2. Contact local employee relations and verify if the location has the potential of exhausting the transfer list and plans to hire off of the street.
3. Complete block 2.
4. If Local President agrees – Forward form to the TWU International AA System Coordinator.
Fax (817) 282-1906
Mail to:
Transport Workers Union AA System Coordinator
1791 Hurstview Dr.
Hurst, Texas 76054
If you email it, it would need to be in PDF format.
AA System Coordinator Responsibility:
Verify block 1 and 2 are completed.
Contact the Managing Director of Employee Relations and complete blocks 3 & 4.
Send the completed form to ATD International, Managing Director of Employee Relations, and each Local affected.
Weather
Contact Information
Exoneration
Union Dues Exoneration & Withdrawal Cards
INTERNATIONAL CONSTITUTION
Article XVII, Section 4(a), [Any member who is prevented by illness, injury, or layoff from earning any wages in a calendar month shall be excused from paying dues for such month and such nonpayment shall not affect his good standing. For the purpose of this paragraph, the word "Wages" shall be construed to include any monetary compensation, totaling seventy-five (75%) percent or more of the member's regular monthly income from his/her employment, payable to an ill or injured worker under applicable law, and/or pursuant to a collective bargaining agreement. …]
Lay-off
Section 4(b) After 3 consecutive months' approved exoneration because of lay-off, a laid -off member shall be required to pay his/her dues to retain his/her good standing membership, or to accept an honorary withdrawal card.
Illness or Injury
After twelve consecutive months' approved exoneration because of illness or injury, any such ill or injured member shall be required to pay his/her dues to retain his/her good standing membership, or accept an honorary withdrawal card.
A member shall not be considered to be in good standing during any period for which he/she holds an honorary withdrawal card.
BILL LINDNER LETTER, DATED APRIL 16, 1980:
Military Leave of Absence
[… persons on military leave are not entitled to exoneration under Section 6 since they do not fit the category of "being prevented from earning any wages in a calendar month. …"]
Discharged Members
[… should be considered as laid-off and therefore would fall under the provisions of Section 6(b). …]
[…nothing prevents any member on longer periods of lay-ff or even military leave from continuing to pay dues in order to maintain good standing with the local for other purposes. …]
Termination 
Appeals Procedure – Termination of Employment
As a result of American Airlines terminating my employment, the Union has filed an Appeal on my behalf pursuant to the TWU/AA Agreement, Article 30 – Dismissal.
I understand the Company must fully investigate the matter and render a written decision to me no later than twelve (12) days; usually by certified mail. If I am not satisfied with their decision, I will immediately bring their written decision to the TWU, Local 514 office, 11945 East Pine Street for timely submission to the Board of Adjustment.
I further understand that by not submitting my grievance timely to the Union, my right to a hearing could be abrogated. 
Appeals Procedure-Termination of Employment FORM in PDF
Smoker Usage
Smokers Usage halted until further notice…
The smokers have been found to be in very poor condition that could result in an accident in transit. We are currently working on repair and will let you know when they become safe for use once again.

Union Hall Use
Local 514 Union Hall Reservations Policy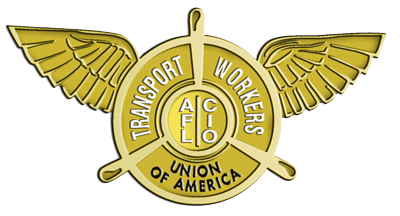 When the TWU Hall is not otherwise in use, it may be reserved by Local 514 members or retired members respectively who are in good standing for events such as family reunions, birthday parties, etc., and by organizations that promote the objectives of organized labor; provided, however, that the member or retiree must be in good standing and have attended at least two (2) membership meetings or two (2) retiree membership meetings respectively within 12 months preceding the event. Only one event will be scheduled during Friday, Saturday or Sundays, except prior to membership or shop stewards meeting when no reservations will be allowed on Friday, Saturday or Sunday.
ALCOHOLIC BEVERAGES ARE PROHIBITED!
RESERVATIONS: Reservations shall be made at the TWU Office.
WALK-THROUGH: In order to ascertain the Meeting Hall's condition, the member making the reservation must make arrangements in advance with an Authorized Representative for a walk-through to be held on the last business day prior to the event and the first business day following the event. Authorized Representative for this purpose shall be defined as the president, vice president, financial secretary-Treasurer, recording secretary and sergeant at arms.
FEES: A $500 cashier's check or money order shall be required for deposit. The deposit shall be refunded upon return of the key, less any charges for repairs, damages or cleaning , if any. The Meeting Hall must be returned to its original order, i.e., chairs and tables set up, etc.
KEYS: Keys must be returned by 10:00 AM on the first business day following the event.
FINAL WALK-THROUGH: The Member is responsible for scheduling the final walk-through with the Authorized Representative as defined in 2 above. The final walk-through must be done on the first business day following the event to determine cleanliness and the condition of the building. The Member will be responsible for ALL damages and clean-up charges to the building and/or contents, if any.
RULES:
  It is prohibited to remove any TWU property from the TWU Hall.
No decorations may be used that will mar, deface, delineate, alienate, or otherwise depreciate the value or appearance of said property. Decorations may only be hung using "painters tape". No thumb tacks or push pins may be used. No decorations may be attached to ceiling panels. (The ceiling panels are brittle.) No pictures will be removed from the walls.
No standing on chairs is allowed.
Thermostats will be maintained at 68 degrees.
Soft drinks in the pop box are free during union meetings only. (Lock on pop box)
Telephones are for local calls only.
Emergency phone numbers are posted in the Hall area.
Union Hall Reservations Policy August 7, 2019 in PDF
Death of an Employee
Shipment of Human Remains
Americans Airlines Policy :(From Jetnet 6-23-2017)
We understand how painful losing a loved one is and we want to respect the wishes of travelers and employees who wish to carry or transport crematory remains as part of their carry-on luggage.
Employees, retirees or eligible family members are allowed to carry on a crematory container provided Transportation Security Administration (TSA) screening and the laws of the country of destination (if applicable) can be met. This does apply to international employees; however, charges are only waived on American's portion of the transport in cases where interline travel is required.
The company also provides confirmed space for the shipment of an employee's, retiree's or eligible family member's remains between cities on the American Airlines system. At this time, American Eagle is unable to accommodate the shipment of remains. For additional information, you may contact TLC@aa.com. If you have any questions at all about this, the TLC Dept is open 24/7 and their number is: 800-852-3333
You will need to contact the funeral home or mortuary to make the arrangements. They will need your employee number, station/branch and your relation to the deceased. The funeral home will contact our Cargo Department to make the arrangements.
Any additional charges will be the responsibility of the next-of-kin or estate. The company is unable to secure courtesy shipment of remains on other airlines.
Eligibility
Employee/Retiree
• Your spouse or DP or RC
• Your children or stepchildren (including children of your spouse/DP)
• Your daughter/son-in-law
• Your parents/stepparents/parents-in-law (parents of spouse/DP)
• Your sister/stepsister/sister-in-law
• Your brother/stepbrother/brother-in-law
• Your grandparents (including those of our spouse/DP)
• Your grandchildren (including those of your spouse/DP)
Survivor Information: