We here at the Transport Workers Union, Local 514 would like to take a moment to thank Brother Del Cotton for all the hours of service he has given to the fight for life.
Dell has promoted the Tulsa TWU/American Airlines Blood Drives for the past 15 years, He has planned, cooked and helped to make giving blood as easy as possible for anyone that would like to donate blood.
This week he has announced that he is stepping down from this position. So we celebrated him During the February 21st Blood Drive.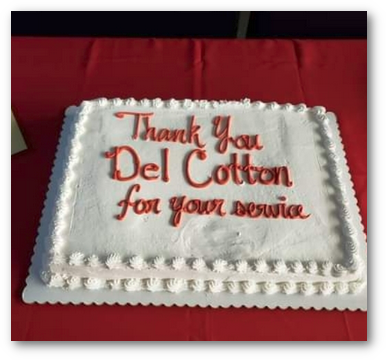 Del has accounted for 32000 units of blood donated to the Red Cross . He was presented a plaque from the TWU.
We have also addressed Del in the passed with an Article from American Way Magazine: HERE
Below is an article found on the Red Cross Website that addressed Del..
---
American Airlines Staff Help Make Blood Drives a Success
April 11, 2016
Every two seconds, someone in the United States needs blood. Across the country, American Red Cross blood drives hosted by companies, schools and other organizations are essential to helping meet this constant need for blood.

One company that's been a reliable source of lifesaving blood donations since at least 1954 is American Airlines. The most successful among their employee blood drives are those hosted by the local Transportation Workers Union (TWU) at the American Airlines Maintenance and Engineering Center at Tulsa International Airport in Oklahoma. TWU 514 also manages drives at three other American Airlines facilities in Tulsa—their Auxiliary Power Unit & Wiring Center (AWC), their Composite Repair Center (CRC) and their Brake & Wheel Center—increasing the potential donor pool to more than 5,000 employees. Combined, the Tulsa drives account for nearly half of all blood donations collected at American Airlines locations in the U.S. over the last five years

According to Marcia Graham, account manager for Donor Recruitment at the Red Cross, TWU 514 has these blood drives operating like well-oiled machines.

Aviation Maintenance Technician Del Cotton heads up the small dedicated crew of TWU members—which includes fellow AMTs Shawn Allan and Donna Florea and Facility Maintenance Millwright Billy Cuenca—that manage everything from publicity and recruitment to scheduling and feeding the generous American Airlines employee donors.

To support donor turnout and minimize work interruptions, the union operates a shuttle with a TWU volunteer driving it. Some workers might otherwise be walking nearly a mile each way, from hanger to donation location, Cotton explained.

Because American Airlines wants to provide everyone at the 24/7-maintenance facility an opportunity to give, the first two nights of the seven-day drives include night hours. Running from 8:00 p.m. to 2:00 a.m., the extra shifts ensure that the midnight crews can participate. While it can mean 10-hour days for his team, Cotton says that it can also mean 30 to 40 donations collected in those last couple hours.

Being well organized makes employee participation easy but the food makes them fun, explained Graham. TWU has a huge grill on the base and makes good use of it, offering cheeseburgers, hot dogs, bratwursts and even steak in the past. When the weather turns cold and the grill is closed, Sloppy Joes and Frito Chili Pies are a few of the employee favorites cooked by the TWU crew.

After donations are made, arms are bandaged and bellies filled, donors are given T-shirts as thank you gifts. These tees come with something extra—a front pocket. It may seem like a small thing, but Cotton confirms that their employee donors appreciate this thoughtful design element in a big way. The pockets provide quick access to the invaluable earplugs needed on the job.

From marketer to manager, chauffer to chef, the TWU crew takes on a host of roles to make the American Airlines blood drives in Tulsa a lifesaving success. The Red Cross is grateful for their dedication and appreciates the generosity of American Airlines and every one of its employee donors.

To help the Red Cross maintain a reliable blood supply, schedule an appointment to donate blood today and encourage your school, church, civic organization or company to host a blood drive in the future. For more information, visit redcrossblood.org.