"We know of no more civil rights issue facing Congress today
than the need to increase the
federal minimum wage and
extend coverage.
We believe it is imperative that farm laborers, among abused and neglected of all American workers, be included at last among those who benefit from the Fair Labor Standards Act. We want coverage extended to include those millions in retail trades, laundries, hospitals and nursing homes, restaurants, hotels, small logging operations and cotton gins who still work for starvation wages."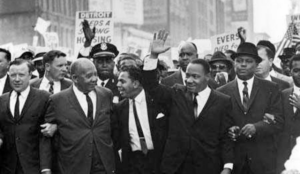 These are the words of Dr. Martin Luther King in March 1966. Ironic we are still living the same nightmare in the 21 century. The events of the last two years have shined a spotlight on the most marginalized and overlooked workers among us. When our everyday lives changed or came to a stop, the sector that we relied on to give us hope were ones that we took advantage of for years, the service sector. Labor Unions have been leading that battle for fair pay and dignity on the job for over a century with the understanding that if workers succeed, we all will succeed. Dr. King believed that the laborer and the labor union were an intracule key to economic prosperity.
"The labor movement was the principal force that transformed misery and despair into hope and progress. Out of its bold struggles, economic and social reform gave birth to unemployment insurance, old-age pensions, government relief for the destitute and, above all, new wage levels that meant not mere survival but a tolerable life." The words of Dr. King at the 1965 Illinois AFL-CIO State Convention.
As we celebrate his leadership, legacy, and his contribution to labor, remember his belief……………..
All Labor Has Dignity