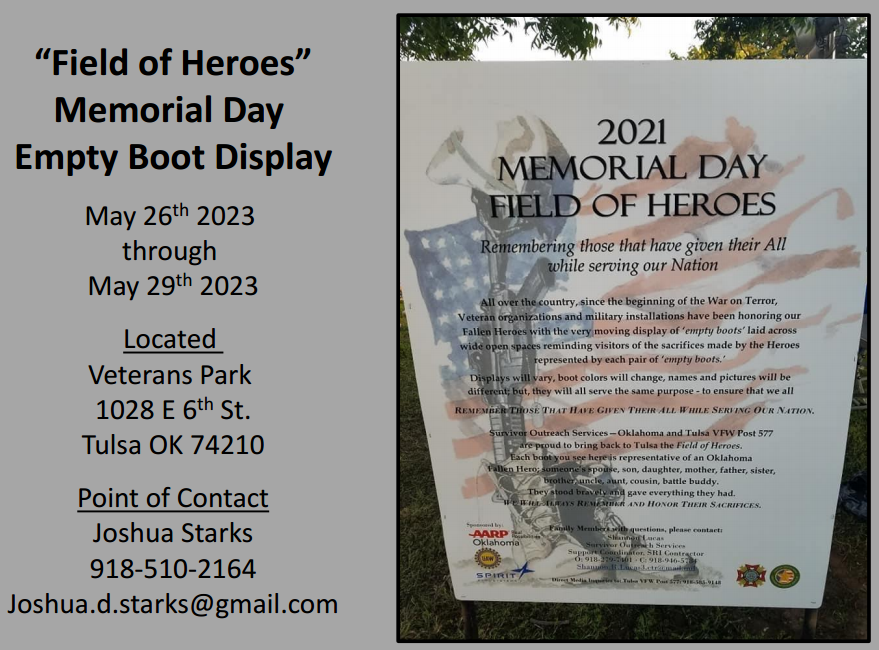 ---
In conjunction with Oklahoma Outreach Services (Gold Star Families), Tulsa Veterans of Foreign Wars Post 577, AARP of Oklahoma, Spirit AeroSystems Veterans Committee, United Aerospace Workers Local 952, Eagle Ops, BSA Troop 2222, numerous additional organizations and individual citizens who dedicate hundreds of volunteer hours and funds to present the "Field of Heroes" in Veterans Park Tulsa, Oklahoma.
The Display consisted of 410 empty boots representing those Oklahoma Soldiers, Sailors, Marines, Airmen or Coastguardsmen who have perished in combat operations since 9/11. Fallen Service members from previous conflicts are added by request from their survivors or fellow service member. Each empty boot is represented with a US Flag, Name, Photo, Branch and date the service member made their ultimate sacrifice.
The display began in 2019 and exponentially grown every year following. This year the display will be open to the public from Saturday May 28th 2023 06:00AM and last until the evening of Monday May 30th 2022 04:00PM.
There were numerous moments during the event that include a Tulsa Police Officer stepping out of his patrol car in the driving rain on Sunday morning at 03:00AM to play Amazing Grace on his bagpipes in remembrance of a fallen friend represented by a pair of boots  within the display. In 2019 during the Memorial Day flooding, Fort Gibson National Cemetery was unreachable due to flooding conditions. Our "Field of Heroes" Memorial became the only location so many families could conduct a graveside remembrance. Every year Gold Star Mothers are found sitting for hours adjacent to the boots representative of their child and for some Gold Star Children this display has been the first representation of their parents sacrifice as well as our Tulsa communities remembrance of that sacrifice. Each Gold Star family is given a crocheted Poppy to attach to the boot in remembrance of their fallen Hero. By the end of the display hundreds of those  poppies have been attached to the boots, representing number of families that have attended.
View the entire presentation HERE: Field of Heroes 2023 May 27 Briefing in PDF