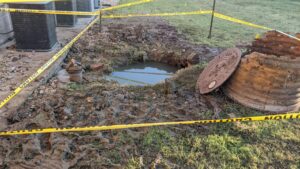 To All,
This morning when we arrived at the Union Office, we found that the Water main on the east side of the office had broken and water permeated the Union Office Building.
We are in the beginning stages of drying out the east side of the building.
The office building will be closed during the restoration process.
Please make arrangements and contact your Union Steward first with any issues.
Please understand that many officers are at the TWU Joint Divisions Presidents' and Officers Council Meeting in California this week.
On Call will be:
D'Ann Johnson – Financial Sec-Treas
918 384-9760 Cell
DJohnson@twumail.org
Executive Board Members at Large
Gene Chapin
918 640-2097 Cell
GChapin@twumail.org
Joe Brown
918 284-9666 Cell
JBrown@twumail.org
Tracy Hardin
918 409-5962 Cell
THardin@twumail.org
As always, you can reach me 24/7 at 918-636-76089
Dale Danker
President TWU Local 514