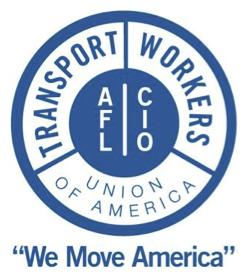 You asked, we listened. You said you want information, that you want to hear from us, and that you want timely updates, news alerts, and the ability to share socially. You want to know what happens, when it happens. You want an open and transparent exchange of ideas, and you want to be kept up to date on the issues facing this union — whether they're related to contracts, legislation, internal committees, or even photos of our members in action.
That's why we're so pleased to announce the first version of the NEW TWU mobile app, available now for Apple and Android phones.
The TWU App allows members to receive updates from their union in real time. As we promised when elected, we want to open the lines of communication between TWU International and our locals. We want to keep you informed, and we know you're constantly on the go, working to keep America moving.
You can expect the app to be a current, one-stop shop and resource for you to keep up with all things TWU. You can control how often you hear from us by turning notifications on or off, and you can subscribe to notifications about your division, or all TWU divisions. You can also watch our award-winning videos, and sign up for our new e-newsletter, Shop Talk!
Download the app now for Apple or Android phones to try it out. If you have an old version of the TWU App, be sure to delete that one and get the new one!
Now, all that we ask is that you spread the word: in the break room, on social media, and everywhere in between. Please share the app with your brothers and sisters, forward this email to a friend, and share your feedback with us too!
Our ability to communicate is only as strong as our members' willingness to participate, share, and engage. We hope you'll join us in this next step toward making TWU a 21st century union, and download the app now on your Apple or Android phone.