RE: NMB Case No. R-7557
American Airlines/TWU/IAM Association and AMFA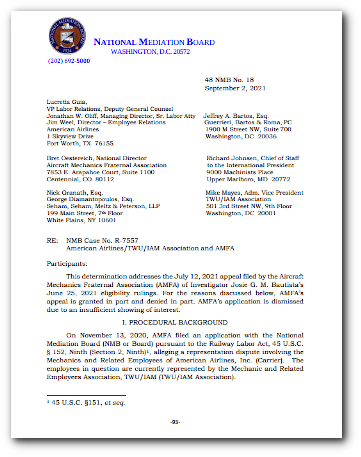 Participants:
This determination addresses the July 12, 2021 appeal filed by the Aircraft Mechanics Fraternal Association (AMFA) of Investigator Josie G. M. Bautista's June 25, 2021 eligibility rulings. For the reasons discussed below, AMFA's appeal is granted in part and denied in part. AMFA's application is dismissed due to an insufficient showing of interest.
(Read the entire document for all the details)
CONCLUSION
The investigation established that AMFA failed to support is application with the required number of authorization cards from the employees in the craft or class as set forth in 29 C.F.R. § 1206.2(a) of the Board's rules. Therefore, the Board finds no basis upon which to proceed in this matter and the application is hereby dismissed subject to 29 C.F.R. § 1206.4(b)(2) of the Board's Rules.