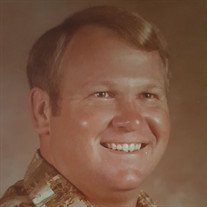 Obituary for Ronnie Black
Ronnie Reve Black was born May 21, 1948, in Bakersfield, California, to Andrew L. Black, Jr., and Dollie A. Ornder. He died Sunday, January 13, 2019, in Tulsa, Oklahoma, at the age of 70 years. Ronnie was reared and educated in Tulsa, Oklahoma, and graduated with the Will Rogers High School Class of 1966. He was a veteran of the armed forces having served his country honorably with the United States Navy during the Vietnam War. He returned stateside and continued his education at Spartan School of Aeronautics in Tulsa earning his commercial pilots license. He attended Rogers State University in Claremore, Oklahoma, for two years before completing his education at the University of Tulsa where he received his bachelor's degree in elementary education. Ronnie was married September 19, 1980, in Claremore to Carol Sue McLain. He and Carol have been faithful members of First Baptist Church in Collinsville, Oklahoma. Ronnie began his working career with Bigheart Pipeline Corporation, then with Amoco Corporation, then retired as an inspector with American Airlines. He was also a member of the Elks Lodge. He loved to fly and even gave flying lessons on the side and was a member of the Quiet Birdmen. He also loved the outdoors whether it be taking a ride on his motorcycle, spending time on the boat, or going traveling to different destinations. He always enjoyed a good roller coaster ride when he got the chance.
Those he leaves behind who hold many cherished memories include:
His wife of over 38 years; Carol, of the home
Daughter and son-in-law; Emily and Jason Hamilton, of Owasso, Oklahoma
Two grandsons; Brayden Hamilton and Ashton Hamilton
He was preceded in death by his parents.
Visitation will be held from 4:00 p.m. to 8:00 p.m. Thursday, January 17, 2019, at Mowery Funeral Service in Owasso. Funeral services will be held 10:30 a.m. Friday, January 18, 2019, at the Collinsville First Baptist Church with Pastor Tim Prock officiating. Serving as casket bearers will be Joe Moore, Pat Chrisos, Red Bartholomew, Chuck Stephenson, Richard Dinelli, and Carroll Hamar. Committal service and interment will follow at Osage Gardens Cemetery in Skiatook, Oklahoma.
The family requests memorial contributions be made in Ronnie's memory to Pulmonary Fibrosis Foundation, 230 East Ohio Street, Suite 500, Chicago, Illinois, 60611.
Arrangements and services were entrusted to Mowery Funeral Service of Owasso.