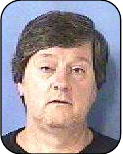 It is with a mournful heart we share with all the passing of Brother Dan Beck this past weekend.
Dan worked in landinging gear shop for the past 5 or so years and Overhaul Mechaninc in AO prior to that. 33 years of his life was here at AA.
Survived by 4 brothers and sisters..
Daniel H. Beck memorial service to take place Thursday 30 May, 2019 at The Kingdom Hall located at 10404 E 63rd St, Tulsa, OK 74133. Doors will open at 3:30. Program will be from 4:00 to 4:30. Light refreshments after until 6:00.