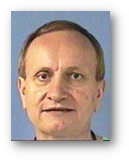 It is with great sorrow that share with you the passing of retired Brother George Modjesky on November 18th, 2021.
George had retired in October of 2020 from his career of Material Logistics Specialist. George had been with American Airlines since 1996.
Please keep the Modjesky family in your thoughts and prayers.
---
George passed away last night, November 18th, 2021. He retired this year and lost his battle with cancer. He will be cremated and the family said there is no service here. They will send him home to Poland and do a service there.