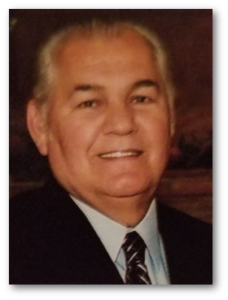 Jerry Wayne Roberts Sr. Was a machinist at American Airlines from 1989 till he retired in 2003.
Jerry was born August 4, 1943 in Tulsa, Oklahoma to Charles Calvin and Betty Jean (Ross) Roberts. Jerry grew up and received his education in Turley and Tulsa where he graduated from McLain in 1961. In 1962 Jerry married Yvonne Roberts. In 1989 Jerry married Cynthia Thomas in Skiatook making their home here until moving to Cleveland four years ago. Jerry was employed with American Airlines from 1989 until his retirement in 2003. Jerry had also worked for the Post Office and for Rockwell in the seventy's and eighty's. Jerry liked repairing and restoring antique cars, was a stock car driver, loved watching NASCAR, traveling, driving and watching western movies.
Jerry was preceded in death by his mother and father.
Jerry is survived by his wife Cindy, children; Jerry Wayne Roberts Jr and wife Whitnie, Jennifer Dawn Roberts-Marrs and Joyce Susan Roberts, sister; Diane Washabaugh, half- sister; Carol Jean, stepchildren; Holli Parish and Adrienne Allen, eleven grandchildren, three great grandchildren, several nieces and nephews and a host of other relatives and friends.
Music for the services will be; "The Old Rugged Cross", "If I Only Knew" and "Give Me The Beat Boys.'
Pallbearers will be; Lane Dickson, Evan Roberts, Ethan Roberts, Caden Lundy, Jimmy Beeler and Jon Allen.
The family of Jerry Roberts entrusted his care and services to the Sien-Shelton Funeral Home.
Visitation
Wednesday
March 13, 2019
11:00 AM to 8:00 PM
Sien-Shelton Funeral Home Chapel
1000 South Lombard Lane
Skiatook, , Oklahoma 74070
Funeral Service
Thursday
March 14, 2019
10:00 AM
Sien-Shelton Funeral Home Chapel
1000 South Lombard Lane
Skiatook, , Oklahoma 74070
Source: https://www.siensheltonfh.com/notices/Jerry-Roberts