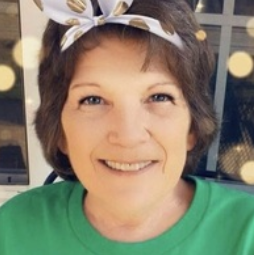 We are deeply saddened to share with you the passing of Sister Linda Allen on November 10th, 2022.
Linda was the TWU President at Zebco back in the late 90's, She helped to fight for a better package for all the Zebco members when they were taking their product overseas.
Please keep the Allen family in your thoughts and prayers.
---
A visitation will be held from 12PM-5PM, Friday, November 18, 2022 in the Grand Chapel at Stanleys. A memorial service will be held at a later date.
In Memory of Linda, from member Rick Mullins:
My friend since 1996 Linda Allen former TWU President at Zebco passed away on 11-10-22 she had pneumonia and formed a blood clot in her lungs which broke loose and went to her heart.
When I started organizing at Local 514 President Marion Finley asked me to pick a partner to help. I did not know Linda but I had listened to her speaking to her Zebco members. She was impressive. She took no bull from the members who started problems. She would shut them down with her knowledge of the union contract without being rude. Then we found out Zebco Reels that were made in USA were going to be sent overseas to China to be assembled, obviously to save money. Not only were no laws we could use to stop Zebco from leaving, the Chinese Free Trade Agreement made it easier for companies to move work overseas to save labor costs and bust unions. 
We took the Zebco drive public to force the company to negotiate. Journalists were coming to the union hall to talk with the employees almost daily. We were on national and local news every night putting pressure on them. Foreign Journalists came to the hall twice. A good friend at the AFL-CIO was helping us keep the heat on Zebco. And then we invaded the board meeting of the parent company Brunswick and a boat show Zebco was sponsoring. 
We won a great package for the ladies even though it was only a severance package.
Zebco's original offer to the ladies was one $200 dollar check then you lost your job.That was actually the minimum payment required by the contract because the union members never worried about Zebco going overseas. What sold those reels was the made in the USA brand, and Zebco was the only rod and reel manufacturer who could make that claim. The fact that they can no longer do so has, without question, undermined their business.
Zebco had a very senior workforce and we increased the package to 1000.00 dollars for every year you worked at Zebco We also negotiated to keep the medical Insurance they already had for a year at no cost to to employees. While we were heartbroken that we could not reverse the decision to reward Chinese dictators and let another Company exploit cheap labor, the uproar Linda helped create helped us protect our members and prevented the Company from leaving them high and dry. 
TWU sister, Linda Allen and I were friends from the minute we met. We had respect for and listened to one another. I knew about Organizing, but she knew the Zebco contract and management. Without her help, guidance, and energy there was no way I could have negotiated a package that went so far beyond what the Company was required to pay. 
She was tough, stubborn, and smart, and there was no way Zebco was getting around her. So they gave in. I'm going to mourn her a lot. But, I'm going to smile also when I think of our accomplishments together and I think of how ornery she could be to me, and her laugh when she knew she had me with a good point or let me know about something I had never thought about.