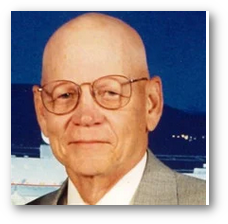 Retired Brother Dan Lincicome passed away Tuesday, December 21, 2021. He was employed from August, 1965 to March, 1996, retiring as a NDT Inspector in the turbine building. His son, Tim Lincicome, is also a NDT Inspector, but is currently on leave of absence.
---
Danny Landon Lincicome Obituary
Danny "Dan" Landon Lincicome was born on November 29, 1936, in Blackwell, Oklahoma to David Milbury "D.M." Lincicome and Alpha Omega (Stroup) Lincicome. He passed from this life on Tuesday, December 21, 2021, in Owasso, Oklahoma at the age of 85 years. Dan was raised and educated in Moran, Kansas and graduated with the Moran High School Class of 1955. He went to work for Being for two years and then enlisted and served his country honorably in The United States Airforce. He was married at the McConnell Air Force Base in Wichita, Kansas on November 21, 1962, to Joyce (Hephner) Lincicome. Their union lasted for over 50 years until Joyce's passing just one week ago. Dan moved to Owasso in 1965 and shortly after he built a house by himself for his family and lived there for over 50 years. He spent most of his working life as an Airline Mechanic and Inspector with American Airlines in Tulsa, Oklahoma and retired in 1996 after over 30 years. Dan was a member of the Pecan Growers Association from 1988-2011. He enjoyed serving others and volunteered as an instructor at the Tulsa Boys Home, where he taught jet engine mechanics. Those he leaves behind who hold many cherished memories include:
2 Children;
Tracy Lawson and husband Jerry
Tim Lincicome and wife Abigail
4 Grandchildren;
Kyle, Kourtney, Fintan, and Lorelei
3 Step grandchildren;
Adam, Kevin, and Christian
3 Great Grandchildren;
Bronwyn, Hollis and Ellis
Brother;
Bill Lincicome and wife Lucille
He was preceded in death by his parents, D.M. and Alpha, brother, James, sister, Coleen, and his wife, Joyce.
Visitation will be held 4:00 p.m. to 8:00 p.m. on Monday, December 27, 2021 at Mowery Funeral Service. Memorial service will be held 11:00 a.m. on Thursday, January 13, 2022, at First United Methodist Church in Owasso with Pastor Jim Cinocca officiating. Arrangements and services were entrusted to Mowery Funeral Service in Owasso.