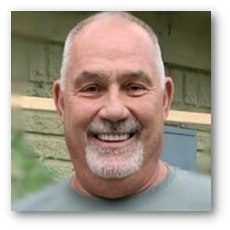 It is with  a sad heart that we share with you the passing of Retired Brother Douglas Simon of January 24, 2022.
Douglas had been a Welder with us here in Tulsa since 1987.
Please keep the Simon family in your thoughts and prayers.
---
Douglas M. Simon 
of Tulsa, Oklahoma
January 24, 1955 – January 24, 2022
Douglas Michael Simon passed away unexpectedly on his birthday in Tulsa at the age of 67, with his wife, Lori at his side.   Doug was a lifelong Tulsan.  He graduated from Will Rogers High School in 1973, married his childhood sweetheart, Aprell (Turner) Davie and started a family. 
He worked for several different companies before starting his 33 year career at American Airlines in 1988 as an Aviation Mechanic Tech/Welder in the Wheel and Brake Center.  Additionally, he volunteered and trained to become a certified ERT and served as Captain over his entire department.   He was a mentor to many, encouraging and guiding them on how to further advance their career.   He was a leader and took on many additional responsibilities including Coffee Club, Fantasy Football, March Madness and much more.   Outside of work, he enjoyed going to estate and garage sales and finding that unique item to sell on Ebay, which turned into a lucrative side job.  
As a young man, Doug was an exceptionally gifted and talented athlete.  His love of sports continued throughout the years and remained a very important part of his life.  He was an avid softball player and played on many different teams over a span of more than 30 years.  His passion for sports led to his involvement in his children's sports activities.    Doug and his wife, Lori,  became an integral part of his stepdaughter's softball program at Edison High School for four years.   He was an assistant coach to the team, offered his knowledge and expertise of the game and dedicated countless hours to maintain the fields. He did anything necessary to better the program.    Doug was truly honored to serve the girls in this way, it was one of his greatest joys in life.
Doug loved his family and friends greatly, the best way he knew how.  He was always available to lend a hand when it came to a big project, moving, fixing something that was broken, or anything that could make someone's burden a little less challenging.  He was strong, loyal, brave, handy, hardworking, dependable and a good friend.   He enjoyed and valued his connections with his lifelong friends and colleagues at American Airlines.
He was a loving son, loyal husband, proud father and grandfather, trusted brother and uncle.    He was preceded in death by his father, Jimmie, his mother, Gloria and his brother, Jimmie.   He is survived by his loving wife of 22 years, Lori; daughter and son-in-law, Emily and Ted Shults; son and daughter-in-law, Michael and Jeanna Simon; stepdaughter and husband, Cori and Michael O'Reilly; stepdaughter, Cali Henderson; granddaughters, Brianna, Sabrina and Hailey; brothers, Mark and Barry Simon; sisters, Marilyn Crossley and Janice Coughran, along with many nieces, nephews, cousins and extended family.    We are deeply saddened by his loss, but we rest comfortably knowing his body is restored, and that he is at peace and reunited with family and friends that have gone before him.
A Celebration of Doug's Life will be held Saturday, March 26, 2022 from 11:00AM-2:00PM at Stokely Event Center. A light lunch will be served.
Services
Celebration of Life
Saturday, March 26, 2022
11:00 AM – 2:00 PM
Stokely Event Center
10111 E 45th Pl
Tulsa, OK 74146