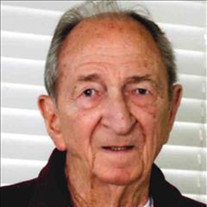 Obituary for Jack Robert Martin, Sr.
JACK ROBERT MARTIN
Jack Robert Martin was born "at Three Sands Oklahoma" December 24, 1926. He was the only child of Iden Owen Martin and Ethel Florence Osborne. Because his father was employed by an oil company the little family moved frequently and he attended several elementary schools. It was said Jack made friends easily and played well with other children.
He graduated from Stroud High School, the class of 1944. Jack was immediately inducted into the military. After basic Navy training he was assigned to the "Seabees". The Seabees had a dual mission, they were a fighting force and also a construction battalion. April 1, 1945 the Marines and Seabees invaded Okinawa. When the beach was secure the Seabees began building an air strip so the island could be supplied. The battle for Okinawa lasted 82 days.
When Jack returned to the United States he received an Honorable discharge. He returned to Oklahoma and enrolled in OSU. College was not for Jack and he only stayed in school 2 years. Jack went back to what he knew, the oil fields. He rough-necked in the oil fields of Oklahoma and West Texas.
In 1950 Jack began looking for more steady employment and came to Wichita, Kansas where he was employed by the Boeing Aircraft as an aircraft mechanic, a career that lasted 42 years. It was in Wichita that he met Wilma Preston, a student nurse. Jack said it was love at first sight, Wilma said it took her a little longer. It was a short courtship. They met in October of 1952, were engaged in December and married February 20th, 1953 at Grace United Methodist Church, in Winfield, Kansas. They remained in Whitfield so Wilma could finish nurses training. Which she did in June 1953.
They both liked Winfield and chose to make their home there. To this new union were born 4 children, Jean, Jack, Jayne (Janie), and James. Later two daughters-in-law were added, Jan Martin and Adria Martin followed by 8 grandchildren and two great grandchildren. All grandchildren are present today.
Having a family of 4 little children was a new adventure for this new marriage. Thinking they would never leave Winfield, Jack set out to build a house that would always be comfortable for them. There was enough space with the house for him to have a garden. He went into this project of gardening in a big way. It was very successful.
A family tradition was started during that time. Family vacations. Not that anyone thought of it being a tradition. It just turned out that way. It started with camping. This was camping in a tent with four small children. Some of these vacations were an adventure, others bordered on disaster. One day Jack announced "I'm buying a travel trailer". And he did a small 14 foot trailer. It was small but they all had a bed and everyone stayed dry and they could travel further, and they did.
The idea of always living in Winfield came to an end when Boeing had a down turn in 1967, causing Jack to look for other employment. He was employed by American Airlines. So the family packed up and moved. They settled in to the new home with friendly neighbors. These were the growing years, the learning years, Jack was a participating and present father. The children were all on a competitive swim team which required every night practice and swim meets on weekends. Swimming was constant during the school years. Never the less there were other activities during this time which required adult participation. Little League baseball. Jack was the coach. Paper routes, Rock Concerts to chaperon, summer jobs, water skiing, cars to repair with the boys, teaching the girls how to take care of a car. And the tradition of family vacations continued but this time they could fly. And they did.
As each child graduated from high school and then from OSU Jack began to think of retirement. He and Wilma retired and moved to a home on Keystone Lake. They both joined the United Methodist Church. Wilma did what she called "Church Work". Jack supported and encouraged her. Once again, Jack had his garden which was successful, what was not preserved was given away. He enjoyed the wildlife (when they were not eating his garden). He kept the birds fed in the winter. It was daughter Jayne and son Jim who introduced Jack to NASCAR. He and Wilma attended many races. It was an interest that continued even after his health failed.
Jack's health began to fail and it was time for another move. He and Wilma left the Mannford area after 43 years. They moved into a high rise apartment which Jack chose overlooking the Arkansas River. Their church membership was moved to Boston Avenue United Methodist Church. Jack was able to attend about a year before his health kept him housebound. He then worshiped by TV. In his failing health he would sit on the balcony watching the activities below him with binoculars. Jack's mind remained clear until his passing.
If you would ask Jack what he thought his proudest accomplishments in his life were, he would tell you the marriage to the love of his life, Wilma and the 4 children they raised. All of whom are productive citizens.
Funeral service will be 11:00 a.m., Tuesday, February 20, 2018 at Boston Avenue United Methodist Church Rose Chapel 1301 S. Boston Ave., Tulsa.
Moore's Memory Chapel
918-583-6148