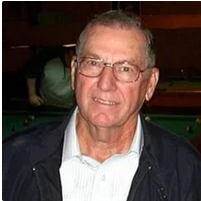 We are saddened to share with you the passing of retired Brother Jesse Criswell on October 27th, 2022.
Jesse hired on with American Airlines back in 1956 and retired in 1993 from the position of Aviation Maintenance Technician.
Please keep the Criswell family in your thoughts and prayers.
---
Obituary for Jesse Criswell, Jr.
Jesse Criswell, Jr. was born on December 30, 1931, in Ethel, Arkansas to Jesse Quitman Criswell, Sr. and Lavada Mae (West) Criswell. He passed from this life on Thursday, October 27, 2022, in Tulsa, Oklahoma at the age of 90 years. Jesse was raised and educated in Ethel and graduated with the St. Charles High School Class of 1949. After high school he enlisted and served his country honorably in the United States Army during the Korean War. Jesse was married on October 26, 1955, in Greenville, Mississippi to Rosa Lee (Robbins) Criswell. He spent most of his working life as an A and P Mechanic with American Airlines in Tulsa, Oklahoma for 37 years. Jesse was a longtime faithful member of Maranatha Baptist Church in Collinsville, Oklahoma where he sang in the choir and solo on Sunday mornings. In his spare time, he enjoyed woodworking, playing golf, and flying his own plane as a private pilot. Those he leaves behind who hold many cherished memories include:
3 Children;
Michael Criswell and wife Nancy
Terry Criswell and wife Anita
Susan Ecker and husband John
4 Grandchildren;
Kristina, Jennifer, Katie, and Anthony
4 Great Grandchildren;
Shelbi, Sydney, Madison, and Coen
Sister;
Audrey McKinnley and husband Rocky
He was preceded in death by his parents, Jesse and Lavada, wife, Rosa, two sisters, Nora and Edith, and his brother, William Henry.
Funeral service will be held 10:00 a.m. on Tuesday, November 1, 2022, at the Mowery Funeral Service Chapel in Owasso with Pastor Andy Plunk officiating. In lieu of flowers, the family requests donations be made in Jesse's memory to Maranatha Baptist Church in Collinsville. Arrangements and services were entrusted to Mowery Funeral Service in Owasso.