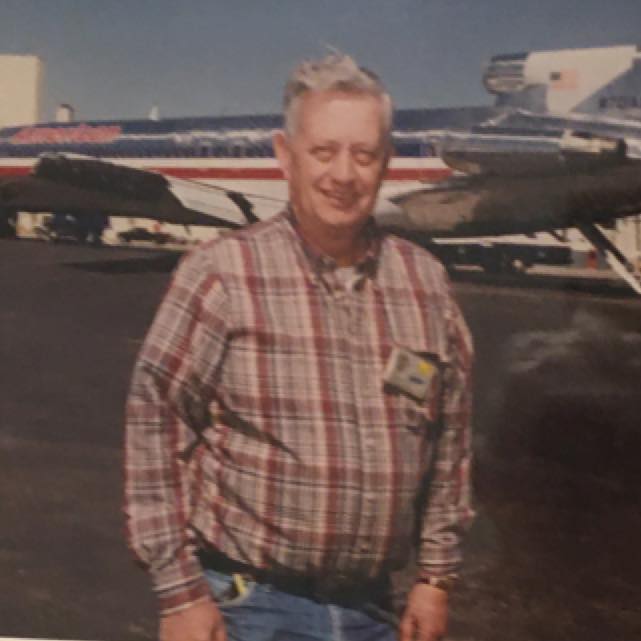 It is with a heavy heart that we share with you the passing of retired Brother Jim Sharp on April 28, 2023.
Jim had hired on at American Airlines back in 1967, in 1996 he retired from the position of Crew Chief, Aviation Maintenance Technician in the Composite shop.
Please keep the Sharp family in your thoughts and prayers.
---
Obituary for James "Jim" Sharp
James Harry "Jim" Sharp
Jim H. Sharp passed away Friday, April 28th, 2023, in Conway, Arkansas. He was 90 years of age.
He was born January 8th, 1933, in Claremore, Oklahoma to Bill and Violet Sharp. One brother, Leland Sharp. He was married to Rosie Sharp for 38 years, and all have preceded him in death.
Jim is survived by his daughter Linda Raulston (Husband David Raulston) of Conway, AR. Three stepdaughters, Sharon Holstein (Husband Bill Holstein) of Jefferson City, Missouri, Norma Carson of Wall, South Dakota, Rebecca Rogers of Oklahoma City, Oklahoma. Good friend Dexter Scanlan.
He is survived by his granddaughter Haley Rose (Husband Lane Rose) of Conway, Arkansas, and grandson Brandon Raulston of Conway, Arkansas. He also has four step grandchildren Sarah Frantz, Cody Vernon, Kelley Meeks, and Chloe Favor and is preceded in death by his step grandson Collin Rogers. He is also survived by one great granddaughter Riley Layne Rose and seven step great-grandchildren.
Jim went to Broken Arrow High School. He then attended and graduated from Oklahoma State University and Northeastern State University. After graduating from college, he then went on to work for American Airlines for 35 years. He loved to team rope and hunt. He worked on the Robson ranch as a kid, which is where he fell in love with horses and loved training them. That is the reason he got hired on at American Airlines by training his boss's horse. He has met a lot of people throughout his life and has made so many friends along the way and will be greatly missed by all.
Viewing is set for Monday, May 8th, 2023, between 1:00-6:00 p.m. at the McClendon-Winters Funeral Home, 205 West Main St, Beggs, Oklahoma.
The funeral will be held at 11:00 a.m., Tuesday, May 9th, 2023, at the Faith Baptist Church, OK-Hwy 16, Slick, Oklahoma with Pastor Steve Lamberson presiding. The internment will follow at the Beggs Cemetery, OK-Hwy 16, Beggs, Oklahoma. Pallbearers will be David Raulston, Brandon Raulston, Dexter Scanlon, Glen Dawson, Bill Harvey, Bill Ross.
Arrangements have been entrusted to McClendon-Winters Funeral Home of Okmulgee. Memories, condolences, photos and videos may be shared with the family on Jim's Tribute Page of our website.
www.mcclendon-winters.com