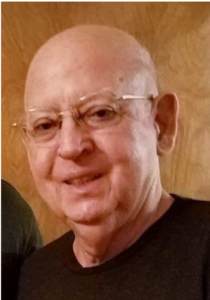 It is with great sadness that we share with you the passing of Retired Brother Phil Ponder on October 28th, 2022.
Phil had started working at American in 1967, He retired from the position of Crew Chief Mechanic Overhaul in 2003.
This information was just given to us to pass on.
Please keep the Ponder family in your thoughts and prayers.
---
Phillip Alan Ponder, 81, of Owasso, Oklahoma, formerly of Newport, Arkansas passed away Friday, October 28, 2022, in Batesville, Arkansas. He was born August 17, 1941, at Grubbs, Arkansas to Ralph and Lenora Clayton Ponder.
Phil was a graduate of Newport class of 1959. After graduation, he served in the United States Navy, where he was trained in avionics. He was later employed by American Airlines Aviation at Tulsa, Oklahoma, where he worked for 35 years. When he retired, he held the position of crew chief.
Phil was an avid deer hunter, a skill he enjoyed with his family. In his early years, he enjoyed racing his car and traveling to Hawaii for month-long vacations. Phil loved the Islands! He also enjoyed working in his yard, playing the guitar, watching sports on television, and drinking coffee.
He was preceded in death by his parents, his wife, Gale Howard Broyles Ponder, the love of his life, and a great-grandson, Fisher Young.
He is survived by a stepson, Michael Broyles of Batesville, AR; a stepdaughter, Kim Broyles Wann (Matthew) of Mount Pleasant, AR; brothers, Ralph Ponder, Jr. (Libby) of Little Rock, AR, and Mike Ponder (Siobhan) of Middleburg, FL; three grandchildren, Spencer Young (Britney) of Paragould, AR, Gale Burleigh (Brian) and Nancy Wann of Batesville, AR; four great-grandchildren, Meritt and Paxton Young of Paragould, AR and Arya and Novalee Burleigh of Batesville, AR; several nieces and nephews and a host of other relatives and friends.
Celebration of Life will be Tuesday, November 1, 2022, at 2:00 p.m. at the Qualls Batesville Funeral Service Chapel. Burial with military honors will follow in the Oaklawn Cemetery at Batesville.
Arrangements by Qualls Batesville Funeral Service.
Visitation will be Tuesday, November 1, 2022, from 1:00 until service time at the funeral home.
Pallbearers will be Michael Broyles, Brian Burleigh, Adam Dale, Justin Garner, Thomas Howard, Matthew Wann, Nancy Wann and Spencer Young.
Honorary pallbearers are Gale Burleigh, Danny Garner, Travis Garner, Jimmy Howard, Jimmy Wayne Howard, Kevin Howard and Clayton Ponder.