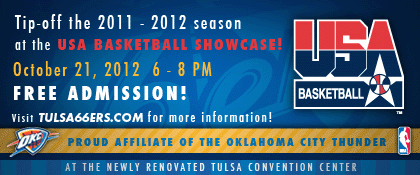 Print This.
Please join us at the newly renovated Tulsa Convention Center to watch TEAM USA, led by the 66ers' own head coach Nate Tibbetts, as they prepare for the Pan American Games.
USA Basketball Showcase
Friday, Oct. 21, 6-8 p.m.
Tulsa Convention Center

Show this email and receive:
Free admission to the USA Basketball Showcase
Access to VIP area with refreshments
Photo opportunities with members of the 66ers Dance Team and Routie the Roadrunner
Chance to win tickets to see the Oklahoma City Thunder vs. Los Angeles Lakers on April 8
Gift with purchase of a ticket package for the 66ers' 2011-2012 season
In addition to this great night of basketball, our staff will be on hand to share with you all the details about customizable ticket packages for the 66ers and Oklahoma City Thunder during the upcoming season.
Free Parking Passes will be given to those that RSVP.
For more information on this exclusive opportunity, please call 918-398-6938.