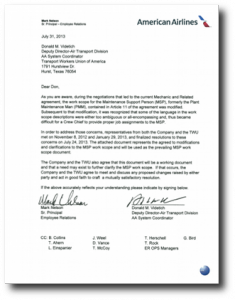 Letter to Don Videtich from Mark Nelson,
As you are aware, during the negotiations that led to the current Mechanic and Related agreement, the work scope for the Maintenance Support Person (MSP), formerly the Plant Maintenance Man (PMM), contained in Article 11 of the agreement was modified. Subsequent to that modification, it was recognized that some of the language in the work scope descriptions were either too ambiguous or all-encompassing and, thus became difficult for a Crew Chief to provide proper job assignments to the MSP.
In order to address those concerns, representatives from both the Company and the TWU met on November 8, 2012 and January 29, 2013, and finalized resolutions to these concerns on July 24, 2013. The attached document represents the agreed to modifications and clarifications to the MSP work scope and will be used as the prevailing MSP work scope document.
The Company and the TWU also agree that this document will be a working document
and that a need may exist to further clarify the MSP work scope. If that occurs, the Company and the TWU agree to meet and discuss any proposed changes raised by either party and act in good faith to craft a mutually satisfactory resolution.  (See the 2013_July31_MSP Scope Modification PDF signed letter)
---
The net results of this agreement reduces the Companies plan of 260 Title II Mechanics being reduced to MSP positions to 160. Therefore 100 Title II Mechanics positions will not transition to the Maintenance Support Positions.
I'm am also attaching the SIS letter.
The Company has agreed to open the SIS for all Title II employees.
The window as spelled out in the letter will close on August 9th at 2359 CDT. All employees that sign up will be granted on August 10th and the Company cannot rescind, nor will the employee be able to revoke the SIS election.  
Again, I want to thank the TWU representatives for their hard work that resulting in these positive changes.
Fraternally
Tony McCoy
International Staff Specialist
Air Transport Division
Transport Workers Union of America, AFL-CIO
2013_July31_MSP Scope Modification